Parish Christmas Outing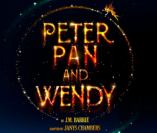 Pitlochry Theatre
Peter Pan & Wendy. Matinee (2pm) Sunday 11th December 2022. Bookings open as of next week. Tickets of £20 per person payable when booking. Deposit paid and final payment due by 30th October, so please buy your tickets in church porch as soon as possible. Please bring along family and friends who are more than welcome.
Awaiting cost of coach and meal but monies for those not due till mid November.
Please see Geraldine Johnstone at St James and Florence Reid at Our Lady of Lourdes for further information.